Special Treats!!! Today we are featuring a very inventive and creative company with you today: Durga-Kali
I was able to interview her about her company that may just completely change your wedding planning world when it comes to bridesmaids dresses. Let's do this!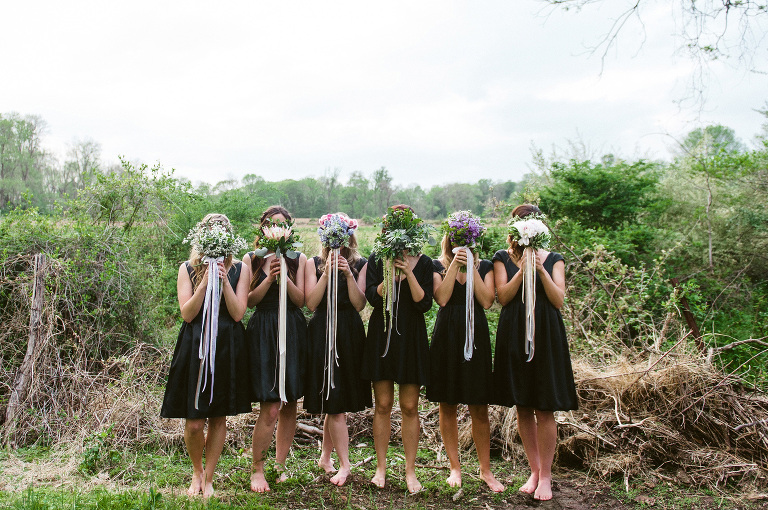 (Photography: M2 Photography | Make-Up: True Beauty Marks | Vintage Rentals: The Fox And The Finch
Floral + Event Design: Belovely | Venue: Woolverton Inn)
Can you first just introduce yourself to our readers so they can "meet" you?
My name is now Durga McCurdy; I got married 2 years ago in India and had a wedding in NYC for all of our family and friends about 1.5 years ago. I always knew I wanted to be a designer from when I was very little. I went to college at Cornell University because they had both a design program and a really strong business program. It was always my dream to have my own line one day, but I had about 10 years of experience working as a designer in NYC before starting my line. It might be helpful to read my bio here.
This is a very inventive idea. How did you come up with it?
After hearing so many of my friends complain about having to buy bridesmaids dresses they were never going to wear again, I felt like there had to be a better solution out there. A few mentioned that the only ones they actually wore again were the little black dresses so I knew the way to keep both the bride and bridesmaids happy was by somehow incorporating the little black dress!
I wanted to design a dress where the bride doesnt have to stress out about whether her friends are going to like the color of their dresses and bridesmaids dont have to feel like they are wasting money. Ive seen so many friends change the theme colors of their weddings because they knew their friends would never wear the color dress that they wanted to put them in again. Or brides would pick a cheap dress that wasnt very tasteful because they didnt want to make their friends waste too much money. I dont know about most people, but spending even $100 on something Im going to throw out after a night isnt something I want to do!
Tell us about the name of your company.
The brand was named durga-kali after a Hindu goddess. Durga and Kali represent two different aspects of her. Durga is the loving, calm form of the goddess, while Kali is the powerful, menacing warrior who destroys evil. The name seemed fitting for these dresses since they really highlight the two sides of a women's personality, the playful colorful side, and the chic black side.
Taking an idea to thriving business is an accomplishment for anyone. What would you say are three big things that helped you get from there to here?
1. Tenacity- My husband and family have probably seen this trait more as stubbornness through the years, but in any start up you have to be willing to keep going. I've obviously have had to adjust the business and listen to what my customers want, but not every customer is the same so I really have to look at it as a whole, do what I think is best to keep moving forward.
2. Experience- Having the experience from my years in the design industry has definitely helped, between having amazing mentors and building key relationships to knowing how to design a line, fit garments, and analyze sales and adjust accordingly each season. I wouldn't have been able to do what I have been without those experiences and those connections.
3. Family & Support – My parents always pushed me to do my best and keep striving to do better. They instilled in my a hard work ethic; while they may not be here with me anymore, everything they've taught me has made me who I am today. My brother, my husband, my aunt, and my cousins (who are like siblings to me) have also been a huge help! I can't tell you how many times I've bounced ideas off of them when I was stuck or ran into issues. I think having that support system has made me feel strong enough to keep on since I know I know I can always count on them through the good and bad! My poor husband knows way too much about bridesmaid dresses now!
(Photos by Seth Caplan)
What would you say to a bride when she is trying to decide on a look for her bridesmaids?
Stay true to yourself. You can never please everyone so at the end of the day, you might as well make sure your happy! But keep in mind theres a fine line between not trying to please everyone and being bridezilla. In the end if you try to be considerate, that's all you can do. There will always be at least one maid that wished you had gone a different way. If your flexible, try to let them pick out their own dresses so not everyone is tied to the same dress.
How cool is that you guys??? Make SURE to visit the website: http://www.durga-kali.com/
Durga-Kali: Bridesmaid Dresses that are Double the Fun from Durga-Kali on Vimeo.