Dan and I have been to a lot of weddings. A lot. Big crazy parties and tiny little elopements. Glamorous places and Exotic locations. Of all that we have seen, this might be the closest to what we would want for ourselves if we could get married all over again. The thing about it is that even if we could recreate it completely for ourselves, the magic would be gone because what made this even more special was the location. We dont have the history here and we never can. That belongs to this precious family alone.
Laura and Kevin were married on a beautiful foggy day, on a private island that belongs to her family, and has for generations. John Singer Sargent painted here and walked the trails alongside her great grandfather. The depth of the connection to this place was unmatched and can't be bought with all the money on the earth. That is the reason this day and this place and this experience can only be theirs.
Getting ready in the cottages on the island, these two met up under a whalebone arch for their first look. Laughter and tears ensured and we made our way to the ceremony where they heard a poem her Dad wrote for the occasion. Im still baffled how he got through reading it without crying. It was pretty epic. Through streaming tears Kevin tried to say his vows to Laura before she decided she'd go first since he needed a moment to collect himself. He did make it through the second attempt and just like that… they were husband and wife.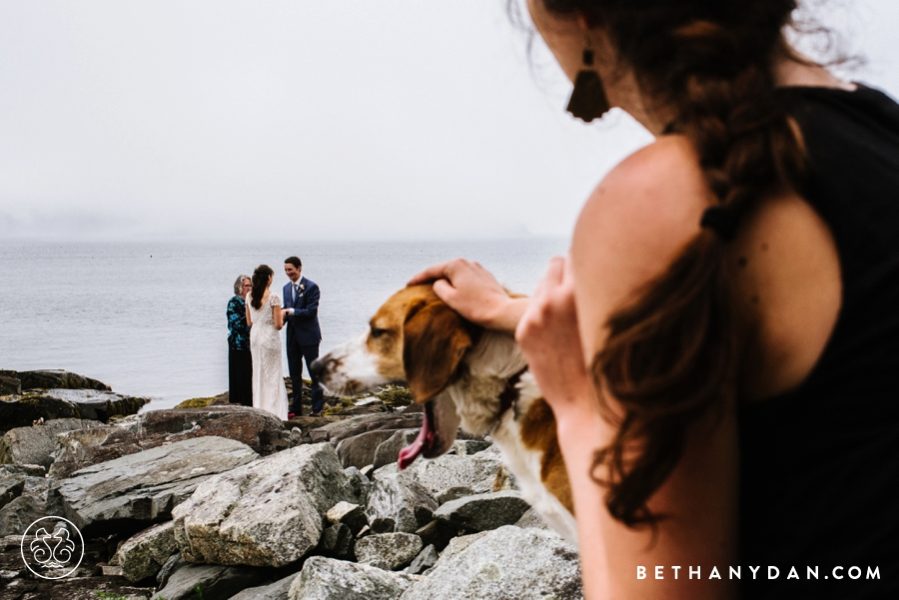 "…Two hearts perfectly positioned to bind
Together, forever, like an island
Bound by walls of iron and surrounded by the sea…"
an excerpt from 'Love Unbound' by Laura's father