If you want to know what a natural beauty looks like… look no further than the new Mrs. Thompson! Sarah is 100% gorgeous, complete with lashes that go for miles and a smile that just won't stop. It is all kinds of heart-meltingly good times to watch John, (JT) gush over his bride. The two of them together are so cute it hurts my teeth. F'real.
We started the day at the Harborside Hotel where they were both getting ready. One funny thing that happened was that my camera bag was sitting next to Sarah's bags so when her girls took Sarah's things to the honeymoon suite… my blue camera bag went with them. Talk about a heart attack!! Luckily it was only a few rooms away and was completely gettable… but still. Whew! We all headed to the trolly and then the church where they exchanged vows and made it official. (That's what this is all about after all). I loved Sarah's long exhale right before she started her walk down the aisle. Keep your eye out for the photo.
The party started and was up and going until the last song. I loved watching the girls singalong with the band, on the mic no less! All in all, it was a wonderful day and we were glad to be a part of it.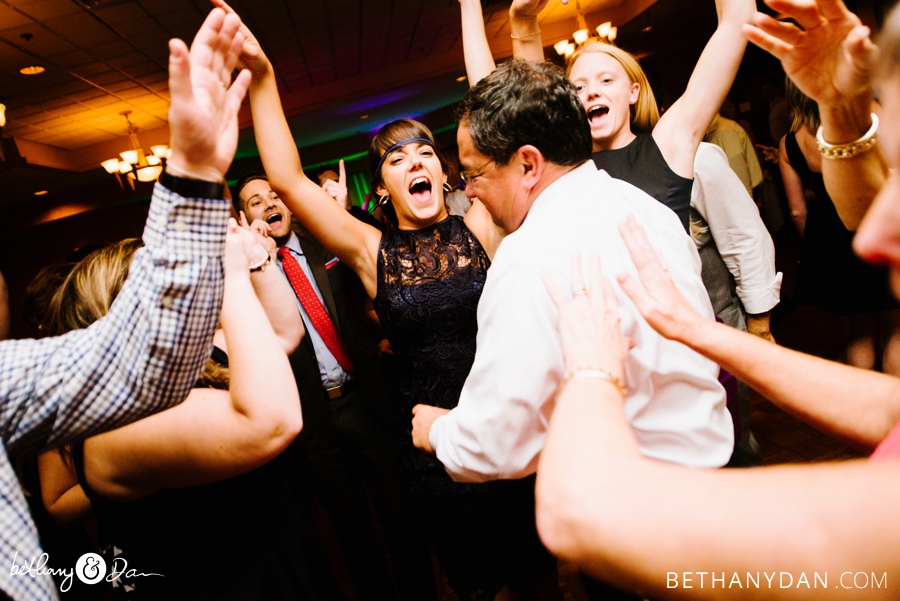 Venue: Sheraton Harborside Hotel  | Florist: Dahlia Pom  |  Gown: Madeleine's Daughter 
Cake: Jaques Fine European Pastries  | Band: Big Party Orchestra
Makeup: Sonja Jacobson Skin Care  |  Hair: Bliss 360
---
More from Sarah and JT: Engagement Session   |   Meet Our Couples